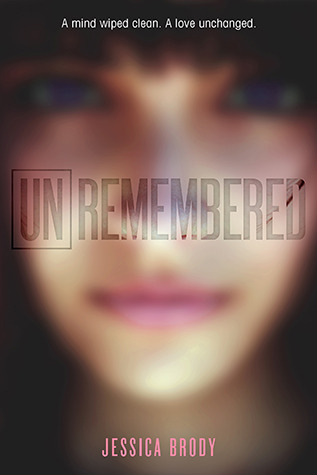 Title:
Unremembered
Author:
Jessica Brody
Publisher:
Farrar, Straus, & Giroux
Format:
Paperback
Publication Date:
March 5th, 2015
The only thing worse than forgetting her past . . . is remembering it. When Freedom Airlines flight 121 went down over the Pacific Ocean, no one ever expected to find survivors. Which is why the sixteen-year-old girl discovered floating among the wreckage—alive—is making headlines across the globe. Even more strange is that her body is miraculously unharmed and she has no memories of boarding the plane. She has no memories of her life before the crash. She has no memories period. No one knows how she survived. No one knows why she wasn't on the passenger manifest. And no one can explain why her DNA and fingerprints can't be found in a single database in the world. Crippled by a world she doesn't know, plagued by abilities she doesn't understand, and haunted by a looming threat she can't remember, Seraphina struggles to piece together her forgotten past and discover who she really is. But with every clue only comes more questions. And she's running out of time to answer them. Her only hope is a strangely alluring boy who claims to know her from before the crash. Who claims they were in love. But can she really trust him? And will he be able to protect her from the people who have been making her forget? From popular young adult author Jessica Brody comes a compelling and suspenseful new sci-fi series, set in a world where science knows no boundaries, memories are manipulated, and true love can never be forgotten.
What would you do if you woke up one day and didn't remember a thing?
What if you woke up in a hospital and were told that you were the only survivor of a plane crash?. That is the reality for a certain "Jane Doe" that we follow throughout Unremembered by Jessica Brody.
The hospital names her Violet, because of her beautiful, yet unnatural violet eyes. Violet doesn't remember anything. Not even the things she should remember, like TV or an airplane. Her first memory is of water, the second is a dream of a boy breaking into her room and trying to kidnap her.
When she recovered, she's released from the hospital and placed in foster care. Before she leaves, the doctor reassures her that her memory could all come back to her very soon and to call him if she remembers anything.
When Violet's foster Mom takes her shopping to for new clothes, the boy from her dream shows up in her dressing room. Startling her, he tells her he knows who she is and that she is in grave danger. Together, they escaped from a lab, a lab where she was created. The scientists from the lab are looking for her. Desperately hoping she believes him, he gives her a place to meet him. How is a person supposed to react to this? Is this boy crazy or could he possibly be telling the truth?
I loved Violet's character. She might not be all that logical at times, but she's such a strong heroine. She puts the ones that she has come to love first over her own happiness. She makes sacrifices that seem unimaginable just so the people she has only known for a short time can be safe. It is really heartwarming. I also can't forget about Zen. Even though Violet can't remember him and fights off his help so many times, he never gives up on saving her. He shows us how strong true love can actually be. What's more, he recites poetry. Who doesn't love a guy that can do that?
I loved Jessica Brody's writing style. I can honestly say there isn't anything I would change about it. The story had a great flow, and I couldn't put it down until I was done. However, I did find it to be predictable at times. The ending wasn't for me either.
Overall I give this book a 4 out of 5 stars. I recommend Unremembered to someone that is looking for a good sci-fy young adult read.
Find Jessica Brody online:
Buy Unremembered online: