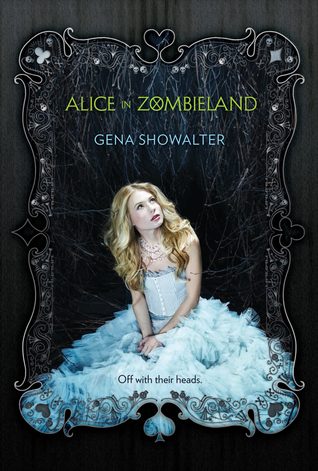 Title: Alice in Zombieland
Author: Gena Sowlater
She won't rest until she's sent every walking corpse back to its grave. Forever.

Had anyone told Alice Bell that her entire life would change course between one heartbeat and the next, she would have laughed. But that's all it takes. One heartbeat. A blink, a breath, a second, and everything she knew and loved was gone.

Her father was right. The monsters are real.

To avenge her family, Ali must learn to fight the undead. To survive, she must learn to trust the baddest of the bad boys, Cole Holland. But Cole has secrets of his own, and if Ali isn't careful, those secrets might just prove to be more dangerous than the zombies.
Happy Halloween! To celebrate my favorite holiday I thought I would do something I hadn't done in awhile! POST A REVIEW! This was on my Halloween TBR last year and I just didn't get around to it, but I am glad I finally did this year.
So this is a 3.5 stars for me.
I am going to be honest, here. I seriously considered putting this book down during the first 150 pages. In my opinion, those were eye rolling worthy. I thought we were headed toward an insta-love situation.