Title:
Maybe Someday
Author:
Colleen Hoover
Publisher:
Atria Books
Format:
Paperback
Publication Date:
March 18th, 2015
Sydney is living in an idyllic bubble—she's a dedicated student with a steady job on the side. She lives with her best friend, has a great boyfriend, and the music coming from the balcony opposite hers is fast becoming the soundtrack to her life. But when Sydney finds out her boyfriend is cheating on her, the bubble bursts. The mysterious and attractive man behind the music, Ridge, gives Sydney hope that she can move on and they begin to write songs together. But moving on is harder than she expects, Sydney can only hope….

Maybe someday…

Colleen Hoover draws you in to this passionate tale of music, love and betrayal…
Finding out that your boyfriend is cheating on you is bad. When it is with your bestfriend and roommate, it only makes it worse. Then, on top of that, on your birthday. Then, for the cherry on top, you find out through a guy you don't even know that lives across from you. This is Sydney's reality. So out a best friend and boyfriend, and really not wanting to run to her closed minded parents, she stays with the stranger that told her about the cheating. What could possibly go wrong?
Going to start this review off by saying that I knew going into this book that I would probably put it down. I didn't want to not like a Colleen Hoover book, so I tried it. But I will get into that more in my dislikes. For the things I liked in this book? Ridge. He is deaf and he signs which I love. I am currently learning ASL, and even though Hoover could put more signs into the book, it was still nice to see. And the writing. As always, Colleen Hoover is amazing with words. That wasn't the issue.
And yes, there was an issue. Warning, there is a spoiler ahead, so if you don't want to know stop here. I mean it, like stop reading now. Just skip to the bottom. There is cheating in this book from the main character Sydney. Ridge has a girlfriend, Sydney knows, and things still happen. I just can't. I know things aren't always black and white, but that is a subject I refuse to sympathize with. If he had broken up with his girlfriend before, or heck even after the first kiss, maybe I could have moved passed it. But he didn't. I didn't stick around long enough to read why "he couldn't" break up with Maggie and I didn't care. If he couldn't break up with her, Sydney should have figured out other living arrangements after the first incident. Another problem I had with this book was her name. Sydney is so overused in New Adult books.
Overall I gave this book 2 out of 5 stars. Originally it was 1.5, but I really do love Colleen Hoover. I am not saying you wouldn't like this book. I didn't like this book, and put it down half at 70%, due to my feelings on cheating. Even though I gave this book a low rating, I will read Maybe Not. I did really like the minor characters in this book.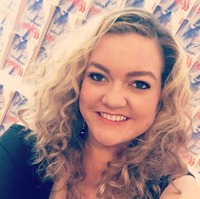 Find Colleen Hovoer online:
Buy Unremembered online: