"Waiting On" Wednesday is a weekly event that spotlights upcoming releases that we're eagerly anticipating.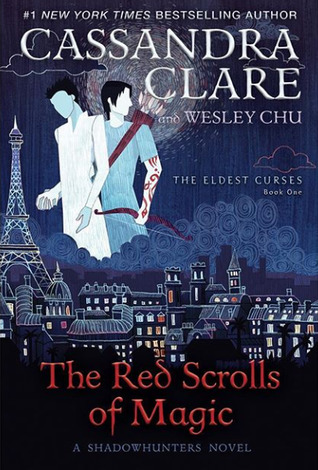 Title:
The Red Scrolls of Magic
Author: Cassandra Clare
Release Date: April 2nd, 2019
All Magnus Bane wanted was a vacation—a lavish trip across Europe with Alec Lightwood, the Shadowhunter who against all odds is finally his boyfriend. But as soon as the pair settles in Paris, an old friend arrives with news about a demon-worshipping cult called the Crimson Hand that is bent on causing chaos around the world. A cult that was apparently founded by Magnus himself. Years ago. As a joke.

Now Magnus and Alec must race across Europe to track down the Crimson Hand and its elusive new leader before the cult can cause any more damage. As if it wasn't bad enough that their romantic getaway has been sidetracked, demons are now dogging their every step, and it is becoming harder to tell friend from foe. As their quest for answers becomes increasingly dire, Magnus and Alec will have to trust each other more than ever—even if it means revealing the secrets they've both been keeping.
So this one really should have been on my last week's Top Ten Tuesday of books I am on the fence about this year. I am so far behind on Casandra Clare's books and truth is, I will not catch up. I have read half of the last book in the Mortal Instruments series and probably won't finish. I haven't ready any of the Infernal Device books and don't plan on it. I haven't read any of the Shadowhunter's Academy. She turns out massive books way too fast for me to keep up. I rolled my eyes at this one at first when I was it was a Shadowhunters novel, thinking how is she not done yet? But this one is Magnus Bane and Alex Lightwood. I can't pass on that... I just have to read it. I do see that this is book 1 in a series and that worries me a little bit. I love Cassandra Clare and her writing and I have read The Iron Trials that she wrote with Holly Black. I want to see something besides Shadowhunters from her. Okay, rant over. This one, though, I will read.