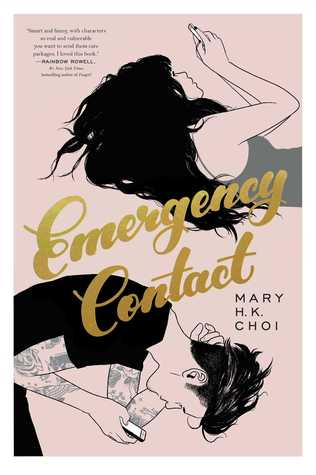 Title:
Emergency Contact
Author:
Mary H.K. Choi
Format:
Ebook/ Scribd
For Penny Lee high school was a total nonevent. Her friends were okay, her grades were fine, and while she somehow managed to land a boyfriend, he doesn't actually know anything about her. When Penny heads to college in Austin, Texas, to learn how to become a writer, it's seventy-nine miles and a zillion light years away from everything she can't wait to leave behind.

Sam's stuck. Literally, figuratively, emotionally, financially. He works at a café and sleeps there too, on a mattress on the floor of an empty storage room upstairs. He knows that this is the god-awful chapter of his life that will serve as inspiration for when he's a famous movie director but right this second the seventeen bucks in his checking account and his dying laptop are really testing him.

When Sam and Penny cross paths it's less meet-cute and more a collision of unbearable awkwardness. Still, they swap numbers and stay in touch—via text—and soon become digitally inseparable, sharing their deepest anxieties and secret dreams without the humiliating weirdness of having to see each other.
Penny has had an okay life. Grades were regular, friends were regular, even her boyfriend was regular. She has basically been a mother to her actual mother who thinks she's still a teenager. So when she heads to college and finds her new roommate in the middle of the road and thinks hes dying, that is the most exciting thing to happen to her. Even yet, after she calls9-1-1, the guy begs her not to. Somehow she ends up being his emergency contact and a text partner.
So I will start off by saying I read this for the bibilathon. It was a 5-star read of one of the host, and from the 10% mark I knew it wasn't going to be for me. I like the premise of the book. The writing was great at some points, but it wasn't enough to save this book for me.
The main character, Penny, was so negative. And I don't mean your normal angst negative. It was like the author had written her flaw as a Debbie Downer, which is fine, but the way it was executed wasn't. A large part of the time I was wanting someone to say something to her. But instead, for no reason what-so-ever, people like her. Sam is a little better, but not really. Most of the characters were very one dimensional, in my opinion. The story could have been fleshed out and executed a little better.
Overall, I gave this book a 2/5.I wouldn't recommend this book to anyone. I am very sorry to the author who I am sure put in a lot of hard work on this book. It just wasn't for me.
Find Mary H.K. Choi online:
Buy Emergency Contact online: