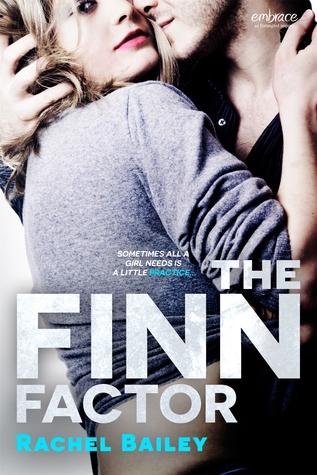 Title:
The Finn Factor
Author: Rachel Bailey
Sometimes all a girl needs is a little practice...

It's been twelve months, three days, and eleven hours since accounting student Scarlett Logan made it past a second date. A pitcher of mojitos in hand, she employs her supreme graphing skills to narrow things down to one horrifying explanation. Kissing. Clearly someone needs to teach her how to kiss properly. Like, say, her best friend and roomie, Finn Mackenzie. He's safe, he's convenient, and yeah, maybe just a little gorgeous.

Finn knows exactly why Scarlett's boyfriends are disappearing quickly. Him. Not a single guy she's brought home is nearly good enough. And he'll be damned if he lets some loser give her "kissing lessons." No. He'll do the honors, thank you very much. The moment their lips touch, though, everything turns upside down. But Scarlett deserves the one thing Finn can't give her. And if he doesn't put an end to the sexy little shenanigans, he'll teach Scarlett the hardest lesson of all...heartbreak.
Scarlett just can't understand why she is going through a dry spell. The longest dry spell in the history of any college student ever! After yet another failed date where the guy didn't even attempt to kiss her, she decides to drink and gossip with roommate and BFF Finn. During said drinking, she comes up with an idea that she needs to take kissing lessons, because apparently she is bad at it and that is why she is going through the dry spell. Things are said and Finn winds up offering to do it. After the first kiss they head into a tailspin trying to keep their feelings for the other under wraps to save their friendship. At one point, they decide to date, but have to keep it a second from everyone. Like that ever works, right?
This book was a fun, light read. It was very cliché, yes, but it was still a lot of fun. I didn't get the feeling that I had read this a thousand times before and it kept me wanting to read more. It was a very quick read, I read it in two days. The characters are well rounded and feel real, which is important to me in a NA novel, because most the time they are flat and cliché. This book gave me the butterflies I so rarely get while reading. The ones that make me blush and giggle and probably look like a crazy woman to anyone around me.
There isn't a lot that I didn't like about this book. The only thing that comes to mind that bothered me was that sometimes Finn seemed to be able to read Scarlett's mind. I know the author was trying to show how close they were, but it came off to me as unrealistic sometimes. Though, I don't have anyone as close as Finn to test it out on, so I could be completely wrong.
Overall I am giving this book a 4/5. I would recommend this book to anyone looking for a light read. Nothing too serious and it will make you giggle and blush like a high schooler! And Finn is to die for!
Find Rachel Bailey online:
Buy The Finn Factor online: