Title:
Open Road Summer
Author: Emery Lord
After breaking up with her bad-news boyfriend, Reagan O'Neill is ready to leave her rebellious ways behind. . . and her best friend, country superstar Lilah Montgomery, is nursing a broken heart of her own. Fortunately, Lilah's 24-city tour is about to kick off, offering a perfect opportunity for a girls-only summer of break-up ballads and healing hearts.

But when Matt Finch joins the tour as its opening act, his boy-next-door charm proves difficult for Reagan to resist, despite her vow to live a drama-free existence.
Regan's life was going off the rails. She found out that her no good boyfriend was cheating on her and she was arrested. Her father now seemed like he was against her and she was pretty sure that it was her step-mother's fault. She needed to get away and going on tour with her best friend, big time country star, Dee Montgomery seemed like the simple fix. Dee was also mending a broken heart, so Regan thought it would be a good girls summer. That is until some unflattering press surfaces about Dee and threatens to ruin her good girl image. To fix it her publicist brings in Matt Finch, another musician from the label, to have a fake relationship with. What nobody ever thougth, especially Regan, is that Regan and Matt would be drawn together. But with Regan refusing to get involved and more on the line than just their hearts, things get complicated.
I really did like this book. All the characters were very well rounded and even though it was through first person, you got to see what Dee and Matt were thinking through their songs. Matt is just to die for! Such a true country boy and you don't normally see a book get that right. They are usually too unbelievable, and Matt borders that line sometimes, but overall it is great. The writing is good and keeps the story moving. It was a very quick read and wasn't really slow in any places.
The story was a bit predictable. Like there is no earth shattering twist in this book, but that is all right. It serves its purpose as a light summer read. I did relate a lot to Regan, but sometimes I felt that she was a bit much. I mean, author's write these amazing guys and have them fall for these girls that haven't really shown them much about themselves. Like Regan was rude at first and mean to Matt, so I never got why he was in to her at first. Of course, I knew how Regan really felt, because I was in her head, but all Matt should have seen was a mean rude girl. That was probably my only problem with this book.
Overall, I am giving this book a 3.5/5. I would recommend this book to anyone that is looking for a light fluffy romance to take to the beach or to the lake. It is a great summer time read and it will get your feelings going.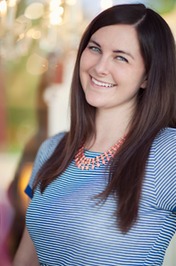 Find Emery Lord online:
Buy Open Road Summer online: