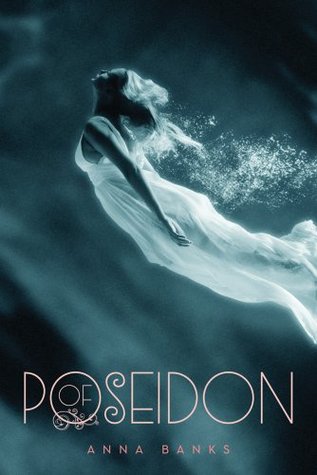 Title:
Of Posideon
Author: Anna Banks
Galen is the prince of the Syrena, sent to land to find a girl he's heard can communicate with fish. Emma is on vacation at the beach. When she runs into Galen—literally, ouch!—both teens sense a connection. But it will take several encounters, including a deadly one with a shark, for Galen to be convinced of Emma's gifts. Now, if he can only convince Emma that she holds the key to his kingdom...

Told from both Emma and Galen's points of view, here is a fish-out-of-water story that sparkles with intrigue, humor, and waves of romance.
Oh sweet goodness, this book! I was hesitant going into this book, because I had seen several bad reviews on it. After finishing it, I am wondering if those reviewers and I were reading the same book. This book was amazing! AMAZING! Okay, in my defense, I just finished it and am still on the high from it.
This book was beautifully written. I loved that Emma wasn't stupid at any time in this book. She kept her head on her shoulders and I related with her a lot. I also loved that when there was a death in the book it wasn't just shoved to the side. You saw the characters deal with it and heal from it, like any physical human would. I hate when I read unrealistic deaths and how people just cry then forget all about it. This book didn't do that.
And Galen. Oh how much I loved this guy. I thought Draco Malfoy would always hold that speical place in my heart, but I do think Galen might be fighting for it. He is the perfect guy, and I am not saying that he doesn't have his flaws, because he does. That is part of what makes him so perfect.

I will say that this book is predictable at times, I mean I so saw the ending coming, but it doesn't take anything away from it.


Okay, enough gushing. Lets get straight to the breakdown:
Things I loved:
The characters.

I really loved how well rounded all of the characters were. Even the not so important ones. Banks made sure that you knew exactly how Emma or Galen, depending on the POV, were feeling at the time they were feeling it. Not a lot of authors can get feelings across in that manner and this was very great to see.

Rayna and Toraf.

I know I said characters, but this is something else. I loved their relationship so much. A lot of people hate Rayna because she is bratty and for the way she treats Toraf. And I did at first, but I found myself laughing at them a lot. I really wish there would be a spin-off series just for these two. I loved Toraf's character so much and the way he cared for Rayna is amazing.

Syrena.

I loved how well thought out everything about the Syrena's were. Like how Rayna and Galen didn't know things about the humans. And the culture behind Syrena. It is very new and refreshing, at least for me. A lot of other books that try to introduce something new leave holes and I didn't find any holes about the Syrena.

Flow.

This book flows very well through time. It doesn't just jump around like a lot of YA books do. It easily glades from one scene to the next.
Things I Liked:
Titanic.

Not something I was planning on putting in here, but anyone that reads this book will probably relate to me on this. I loved how the Titanic was incorrperated into this book. Just beautiful.

Parents.

Emma's mom's view of Galen at first is hilarious. I blushed so hard for Emma when she was being interrogated by her mother. And I just loved Rachel, Galen's "mother". But I loved how the parents in this book were around. They didn't just disappear. Yes, there were unrealistic times when you say "Really? You are letting your daughter do this?" But at least she was present and aware of Emma, you know?

Fast Read.

Read it in like a day with work and all.
Things I Didn't Like:
Instalove.

So from page 1, when Emma runs into Galen, they start talking about the pull toward each other. That is later explained in the book, so it doesn't make the instalove so bad. Plus, it is one of those instaloves where they both feel it, but can't be together for greater reasons sort of thing.
What I Would Change:
Out of all the things I can think of that could be changed, I wouldn't change a thing. I wouldn't want anything to be taken away from this book. It was very amazing and changing it would just be awful.
Will I Pick Up Book 2:
Yes, of course! I ordered book 2 last week, which is why I started reading book 1 to begin with. So hopefully book 2 will be here soon!
Would I Recommend:
I would recommend this book to those who love fantasy YA books. If you aren't a fan of YA or fantasy I wouldn't pick this up.