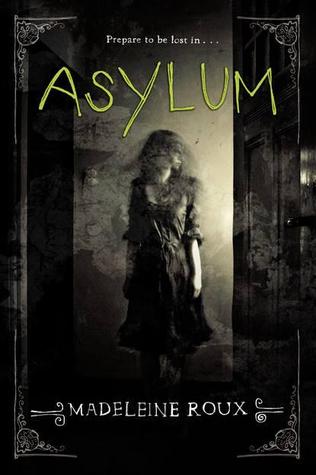 Title:
Asylum
Author: Madeleine Roux
Asylum is a thrilling and creepy photo-novel perfect for fans of the New York Times bestseller Miss Peregrine's Home for Peculiar Children.

For sixteen-year-old Dan Crawford, New Hampshire College Prep is more than a summer program—it's a lifeline. An outcast at his high school, Dan is excited to finally make some friends in his last summer before college. But when he arrives at the program, Dan learns that his dorm for the summer used to be a sanatorium, more commonly known as an asylum. And not just any asylum—a last resort for the criminally insane.

As Dan and his new friends, Abby and Jordan, explore the hidden recesses of their creepy summer home, they soon discover it's no coincidence that the three of them ended up here. Because the asylum holds the key to a terrifying past. And there are some secrets that refuse to stay buried.

Featuring found photos of unsettling history and real abandoned asylums and filled with chilling mystery and page-turning suspense, Madeleine Roux's teen debut, Asylum, is a horror story that treads the line between genius and insanity
What I Liked:
Terrifying. The book is a horror novel and it was just that. It was very scary. Of course, asylums are always scary for me. But it surpassed most YA horror in the terrifying category.
Pictures. I liked the pictures that were throughout the book and the notes. It gave a visual to what I was reading and it made the story even more scary.
Idea. I liked the idea of the story. Boy with a troubled past goes to a summer program and is boarded in a building that used to be an insane asylum. That alone is enough to tweak my interest.
Flow. The story moved along very smoothly. Time passed evenly and you always knew where the character was. I know in some books there is a little confusion about where a character is, but this one let you know at all times what was happening.
What I Didn't Like:
Follow-up. There were several things that weren't followed up on in this book. Like the thing with Jordan and his room. She mentioned it and then it was like it never happened. There were several more things like this in the book, but I can't list them in fear of spoilers.
Characters. Okay, this one is complicated. I did like the characters. They were well rounded. But they did move out of character often. Especially Abby and Jordan.
Predictable. From chapter three I got a pretty good feeling about what was going to happen in the end. And I was right. The book was still just as scary, but in the back of my mind it was always there. I would have like it not to have been so obvious.
Not needed scenes. There were some scenes that I felt didn't contributed to the story at all. Like an entire chapter that only had a few things that actually pertained to the story.
Would I Recommend:
Over all, yes. I would recommend this. I wouldn't recommend it read before bed if you are prone to nightmares.