Warning:This book is the second in the series. If you haven't read the first, please do not read this review. I do highly recommend the first, though if you haven't read it, this review might spoil you on some things.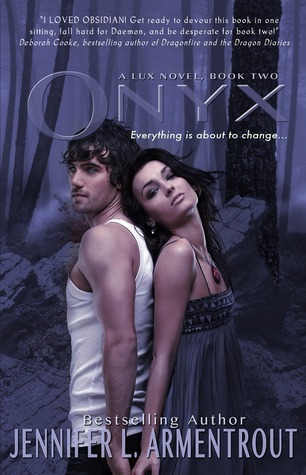 Title:
Onyx
Author: Jennifer L. Armentrout
Being connected to Daemon Black sucks…

Thanks to his alien mojo, Daemon's determined to prove what he feels for me is more than a product of our bizarro connection. So I've sworn him off, even though he's running more hot than cold these days. But we've got bigger problems.

Something worse than the Arum has come to town…

The Department of Defense are here. If they ever find out what Daemon can do and that we're linked, I'm a goner. So is he. And there's this new boy in school who's got a secret of his own. He knows what's happened to me and he can help, but to do so, I have to lie to Daemon and stay away from him. Like that's possible. Against all common sense, I'm falling for Daemon. Hard.

But then everything changes…

I've seen someone who shouldn't be alive. And I have to tell Daemon, even though I know he's never going to stop searching until he gets the truth. What happened to his brother? Who betrayed him? And what does the DOD want from them—from me?

No one is who they seem. And not everyone will survive the lies…
This was a very hard book for me to rate. There are several things I didn't like about it, but I still really loved it over all. So I decided it is more of a 3.7.
What I Liked:
The Characters. As in the first book, the characters were great. Very well rounded.




The Cuteness. There was a lot more cuteness in this book with Daemon and Katy. I really loved the Thanksgiving part. A lot of awwww or OMG moments that I enjoyed.




Different Side Of Daemon. In this book we got to see a different side of Daemon. We got to see his caring side, his playful side, his protective side, and his seductive side. All of which I loved way more than his asshole side!




Bethany and Dawson. I loved the back story on these two. In the first book you are left wondering about them and a lot of this book is based on what really happened to them.




The Surprises. This book is full of them! Give that I did spoil myself on purpose, because I needed to know if I was right. Other than that, there were surprises around and behind every door!
What I Didn't Like:
The Cover. So, this really didn't take anything away from the book, but I really hate the covers in this series. The guy on the front is hot and all, but the cover looks sloppy and could have been done a lot better. I do a lot in graphic design, so it kills me to see a cover done like this. For a book like this, it needed an awesome cover that it didn't get.




Love Triangle. So I do like some love triangles, I am not going to say I hate them all. But this one didn't make a lot of sense and was really too cliché.




The Last 25 Percent. So, I flew through this book really fast up until the last twenty five percent of the book. It seemed to drag on and every time I thought it was about to end, something else would happen. In my opinion a lot of this could have been put into another book or just taken out entirely.




Absent Mother. I know Katy's mom works a lot and weird hours, but it seems when she gets a new boyfriend she stops paying attention to Katy. I mean really paying attention. It is like she doesn't know her daughter is getting all these bruises or that she is extra mopy.





Will I Read The Next:


Yes. I will be reading Opal.