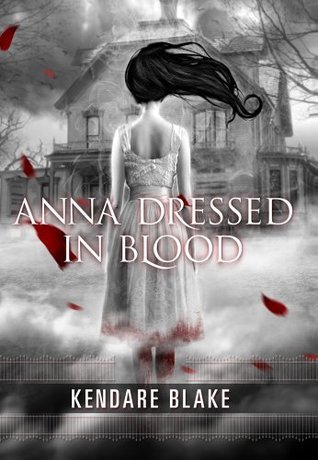 Title: Anna Dressed In Blood
Author: Kendare Blake
Cas Lowood has inherited an unusual vocation: He kills the dead.

So did his father before him, until he was gruesomely murdered by a ghost he sought to kill. Now, armed with his father's mysterious and deadly athame, Cas travels the country with his kitchen-witch mother and their spirit-sniffing cat. They follow legends and local lore, destroy the murderous dead, and keep pesky things like the future and friends at bay.

Searching for a ghost the locals call Anna Dressed in Blood, Cas expects the usual: track, hunt, kill. What he finds instead is a girl entangled in curses and rage, a ghost like he's never faced before. She still wears the dress she wore on the day of her brutal murder in 1958: once white, now stained red and dripping with blood. Since her death, Anna has killed any and every person who has dared to step into the deserted Victorian she used to call home.

Yet she spares Cas's life.
It was my first Kendare Blake book and I do look forward to reading more books by her. Her writing style is enjoyable. This story was a fantastic idea! I do wish she would have spent more time developing things with Cas and Anna, because it just made that aspect kind of unbelievable, but over all the writing was really good. So, let's jump into this review!
The Hook. So most books it takes awhile to get to "the good part", but this one grabs you from pages 1. It starts off in the middle of a thrilling ghost hunt and it has you on the edge of your seat.
Character Development. The characters were very well rounded. Even the characters that weren't in the story for very long. I felt like I knew each character on a personal basis. She made sure you hated the people you were supposed to hate and loved the people you were supposed to love.
The Writing. As I said above, the writing was great. She took the time to describe everything you were seeing or feeling in the book. Though I will admit, I do get rather annoyed when an author takes too much time describing one place, I like using my imagination, but over all the writing was great.
Cuteness. Okay, maybe this was just me, but Thomas was adorkable! Best friend ever! Like in my Nevermore review, Thomas was Cas's Gwen. He was funny, bashful, and kick-ass. Plus, he could read minds. How awesome is that! I can't wait to pick up the next book to see if he gets and keeps the girl he wanted! Seriously, the best character in the book! Though, I say this about all the best friends. It doesn't seem like I can ever like the main character more than the best friend! Sidekicks rule!
The Graphics. Okay, so I know there were no actual graphics in this book, but there were some serious imagery going on in my head! This does go along with writing, but it deserves its own bullet. Picking up this book most people think, "how scary can a YA book be?" Pretty damn scary. The way Blake describes the deaths and the ghosts is amazing. This might just be all in my head, but it was pretty gory. Especially when you find out what really happened to Anna.
Slowness. This book took me forever to read! To be honest and fair, I don't even know why. It isn't slow paced. I just kept putting it down. Maybe I wasn't in the mood for it, but I felt like I had to force myself through the last 200 pages.
Carmel. This was the character I couldn't get a grasp on. She was well rounded, I just didn't identify with her at all. I didn't like her personality and I didn't like her complications in the story.
[Spoiler][Hide]
Will and Chase. The way everything ended with them was very anti-climatic. I know it was necessary for Cas to see what he did, but I feel it could have been someone else. I might have hated Will, but I felt he had a bigger role in the story, then to have everything go out like that. But maybe she will have one of their ghosts come back or something, that would be cool.

Yes. I would for someone looking for a spooky read.