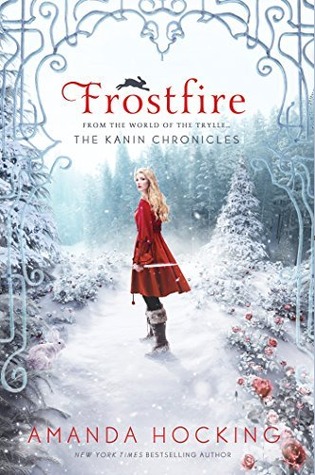 Title: The Kanin Chronicles
Author: Amanda Hocking
Bryn Aven is an outcast among the Kanin, the most powerful of the troll tribes.

Set apart by her heritage and her past, Bryn is a tracker who's determined to become a respected part of her world. She has just one goal: become a member of the elite King's Guard to protect the royal family. She's not going to let anything stand in her way, not even a forbidden romance with her boss Ridley Dresden.

But all her plans for the future are put on hold when Konstantin– a fallen hero she once loved – begins kidnapping changelings. Bryn is sent in to help stop him, but will she lose her heart in the process?
This is a review of the entire trilogy. I only put the summary of book one so it wouldn't spoil anything for those who haven't read it.

What I Liked:
Unique

– The plot and story were very unique. I don't know of many books about trolls, especially these kind of trolls .
History

– I love the history and the thought toward the history that she put into this series. Each tribe had it's own, but it all intertwined. It was just great and really helped the world building.
The World

– Speaking of world building, it was great. It was a world within our own that even intertwined with ours. They were so alike, yet so different. Brilliant.
Writing – I love Amanda Hocking's writing. It flows beautifully and it is written well. It kept me engaged until the very last page of the third book. I think this is the first book I marathoned straight through without stopping.
Characters

– I saw some reviews that didn't like

Bryn, our main character, but I am NOT one of those people. I loved her. She is kick-ass and straight forward. She had flaws, which made her real. She had troubles that most of us can relate to. Ridley was by far my favorite character in this book, though. Or maybe Konstantin. This woman knows how to write a man!
The Romance

– Love Triangle? Not exactly. This series has you thinking it would have a love triangle, but it doesn't really. So even the people that swear they hate love triangles can like it. The romance didn't overshadow the adventure of this story either.
Surprises

– I will admit, that I did predict some of the ending, there were still some things that I never saw coming even though, looking back, it was clearly laid out at the beginning. That was very nice. I hate knowing what is going to happen and it happen. It is very anti-climatic for me.
The pronunciation guide

– In the back of the second and third book has this. It was extremely helpful in trying to pronounce foreign names and places.
Character Index – Like the pronunciation guide, the back of the books had a character index, which made it easy to keep track of who everyone was and was related to.
What I Didn't Like:
The Second Book's Flow

– The second book was kind of slow for me, though it gave us a lot of info that we needed.
Would I Recommend:
Yes. Anyone looking for a YA series that has adventure with a little bit of romance, this is the series for you.