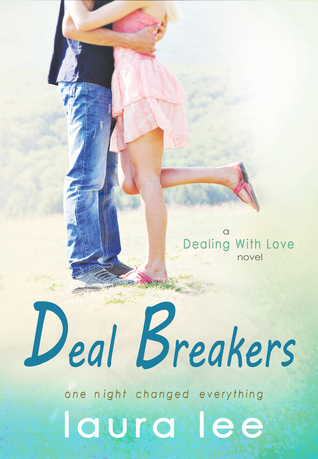 Title:
Deal Breakers
Author: Laura Lee
Publication Date: September 1, 2015
Source: Netgalley
How were they supposed to know that one night would change everything?

Devyn has life all mapped out. She just needs to accomplish one more thing before graduating college and becoming a full-fledged adult—lose her virginity. And who better to assist her than her best friend, Riley?

Riley is the self-proclaimed king of fling. His college years have been filled with meaningless hookups until the one night that ruined him for all other women. The one night he spends with his best friend, Devyn. Right before he screws it all up.

Balls to the wall, baby!

Now five years later, Riley is determined to atone for his mistakes and prove that he can be the man that Devyn deserves. Little does he know that Devyn's been keeping a secret from him all these years. A big secret. Now he has to figure out how to win back the only girl he's ever loved while navigating the pitfalls of her unexpected revelation.
What I Liked:
The Overall Story - Though below I said that the story was far from original, I do tend to like New Adult stories. So the story itself was good, if you look past the fact that it has been done time and time again.
Humorus - The book was funny. The characters provided as great comedic relief.
Fast Paced - This was a quick read. It is great for when you have a book hangover and you don't want to pick up something really intense yet. It is a middle book.
What I Didn't Like:
I've read this before? The story itself is, like most New Adult books, very predictable and likeminded as the others in the genre. I love New Adult, but I do wish it would be shaken up a tad.
Characters - I did say that I liked the characters, but this is a bit different. This falls hand in hand with the one above. These characters are the same as you would see in any other New Adult book. Almost cookie cutter material.
The guy loves girl, girl hates guy - This isn't just in New Adult, you find this a lot in Young Adult, too. And sometimes it works, but I found this making me annoyed. If the roles were reversed, readers would be mad at the girl because she should be stronger than that as a female. I think the same should go for a man.
Lacking something - Through the entire book I felt as if it were lacking something. I knew it lacked originality, but I mean something else. I never did quite put my finger on it.
Would I Recommend:
Yes - If you aren't looking for anything too serious and you want the cookie cutter New Adult book.
No - If you are looking for a good book that will stick with you and original, this book isn't for you.