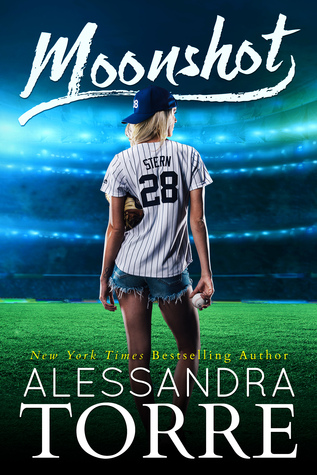 Title:
Moonshot
Author:
Alessandra Torre
Format:
Ebooks
Publication Date:
July 4th, 2016
Baseball isn't supposed to be a game of life and death…

The summer that Chase Stern entered my life, I was seventeen. The daughter of a legend, the Yankees were my family, their stadium my home, their dugout my workplace. My focus was on the game. Chase... he started out as a distraction. A distraction with sex appeal poured into every inch of his six foot frame. A distraction who played like a god and partied like a devil.

I tried to stay away. I couldn't.

Then, the team started losing.
Women started dying.
And everything in my world broke apart.
Since she was 7 years old Tyler Rollins has ate, slept, and breathed Yankees. Her father being one of the best pitchers in the league, she got to travel with, what she considers, the greatest baseball team on Earth. Tyler was perfectly happy with her life, when the only thing she had to worry about was how she was going to stay in the dugout when she graduated, being too old to continue being the ballgirl. That was until Chase Stern entered her life and changed everything.
This was my first Alessandra Torre book, though I have several. And I really did enjoy it. I have watched Torre's YouTube channel for awhile now (and if you are a writer, I strongly suggest you go check her out!), but it was only when I had an idea for a NA book that I actually picked up the first book. I LOVE her writing style. It flows well, not ever choppy, which in these books are rare to find. It is very relateable and keeps you interested. She gives you all the information you need without you getting bored and skipping ahead. (Am I the only one who does that?) And her characters are something else. I loved the relationship between Ty and her father. She gives you a prologue, showing that it was strained as a child and then shows you how unbelievably close they become. That alone makes me want to cry, because it was so beautiful. And of course I loved the character of Chase. And want to know what I loved the most about him? He wasn't perfect! I feel that many of the NA men are perfect with maybe on flaw that disappears after being mentioned. Chase knows who he is and his flaws make him Chase. And as much as it bothered me while reading, I like how Ty's personality resembled her age. She is 17, going on 18, when the book first starts and she acts like a teenager, which is nice. I feel like author's try to make teenagers too adult now days and it isn't realistic. Also, by the end of the book, I was surprised by who the killer was. And that rarely happens.
With that gush finished, I do have several issues I had with this book. First being, WHY IS IT ALWAYS CANDY?! I feel like there is always a cutesy little candy combo added to so many of theses books and this is one of them. Tobey is the son of the owner of the Yankees who his father and Ty's have been trying to get together. Now, without giving spoliers, I am going to say this. Tobey is a jerk at the start, but he is 17, most guys are at that age. My problem is with the other reviews saying he was a prick. And yes, he makes some mistakes by the end of the book, but as a character he was great. Stop hating on Tobey! My major issue with this book, though, was the fact that it was supposed to be a suspense book, with the murders and stuff, and it wasn't really. It mentions the death and extra secruity occasionally, but not enough. It focused on the relationship more than the mystery and I would have liked a lot more mystery out of this book. And I know I said I loved Chase, and I do, I really really do. But toward the later part of the book he goes through a major change and that I didn't like. There wasn't enough character development for the new Chase as there should have been. Also, the first part of the book was amazing, where as the second part was kind of not. Part of me felt it could have been two books, because maybe she didn't put as much of an effort into the second part, but it just fell kind of flat for me.
Overall I gave this book 4/5. Even though I didn't love the second part of the book as much as the first, I still loved the book as a whole. It was such a great quailty NA book and it kind of pains me that it doesn't get the same love as Colleen Hoover's books, which if you read my other reviews, aren't always that great. In my opinion the writing is so much better. I am not trying to bash Hoover here, just trying to give Torre the credit she very much deserves.
Find Alessandra Torre online:
Buy Moonshot online: