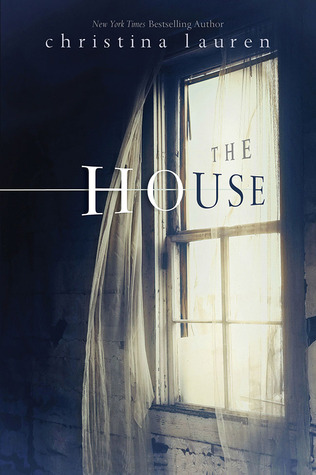 Title:
The House
Author: Christina Lauren
Gavin tells Delilah he's hers—completely—but whatever lives inside that house with him disagrees.

After seven years tucked away at an East coast boarding school, Delilah Blue returns to her small Kansas hometown to find that not much has changed. Her parents are still uptight and disinterested, her bedroom is exactly the way she left it, and the outcast Gavin Timothy still looks like he's crawled out of one of her dark, twisted drawings.

Delilah is instantly smitten.

Gavin has always lived in the strange house: an odd building isolated in a stand of trees where the town gives in to mild wilderness. The house is an irresistible lure for Delilah, but the tall fence surrounding it exists for good reason, and Gavin urges Delilah to be careful. Whatever lives with him there isn't human, and isn't afraid of hurting her to keep her away.
When her dad loses his job and isn't able to pay for her schooling, Delilah ends right back up in her home town after being away at boarding school for the past seven years. Seven years ago she got into a fight defending the weird boy on the playground that she liked and was sent away. Now, for her senior year, she is right back in that school and gets to reconnect with that weird boy from seven years ago. Gavin, though, has a secret and likes to keep people at arms length, though. But Delilah doesn't play that. She breaks down all his walls and enters his life full force. When he takes her home she learns that his house isn't a normal house. And soon, she is pretty sure it is out to get her.
I have mixed feelings toward this book. I really want to love it, I really do, but I simply can't. But before I get to the reasons as to why I can't, lets talk about what made me like it. The writing, like with any Lauren novel, is beautiful and flows great. It was very easy to read. I also liked the character of Gavin, though I would have preferred the entire book be told from his POV. The story itself was nice, though, and made for a good Halloweenish read.
Now, on to the reasons I just couldn't love it. I couldn't bring myself to like Delilah. This character really fell flat for me. She tried to be a badass, but came off as annoying. Also, I couldn't bring myself to shake the feeling of the Disney movie Smart House. It was so much like that movie, minus the electronics. This really wasn't a dislike for me, but it wasn't a like either.
I also expected more horror in this. I guess, in the end, I think it was promoted wrong and lacked the horror element.
Overall, I gave this book 3/5 stars. It is a good read for younger adults that are looking for a fast Halloween read.
Find Emery Lord online:
Buy Open Road Summer online: