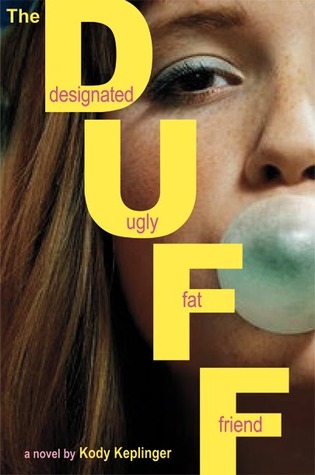 Title: The Duff
Seventeen-year-old Bianca Piper is cynical and loyal, and she doesn't think she's the prettiest of her friends by a long shot. She's also way too smart to fall for the charms of man-slut and slimy school hottie Wesley Rush. In fact, Bianca hates him. And when he nicknames her "the Duff," she throws her Coke in his face.

But things aren't so great at home right now, and Bianca is desperate for a distraction. She ends up kissing Wesley. Worse, she likes it. Eager for escape, Bianca throws herself into a closeted enemies-with-benefits relationship with him.
Until it all goes horribly awry. It turns out Wesley isn't such a bad listener, and his life is pretty screwed up, too. Suddenly Bianca realizes with absolute horror that she's falling for the guy she thought she hated more than anyone.
With the moving coming out tomorrow, I thought it might be a good time to read and review this book. To be honest, after reading the book and watching the trailer, they look nothing alike. Don't get me wrong, I am still excited for the movie, I just don't think it is going to follow the book so much.
What I Liked:
Bianca! I LOVED this character! This is probably my favorite female character in a contemparay. She speaks her mind and she has real feelings and real problems. I hate reading a contemp and the main character rarely has any REAL problems. And who wouldn't love to just throw a cherry coke on some jerk?!
The Plot. So a lot of reviewers were pointing out the plot holes, and yes, this book has a few. But over all, I liked the plot.
Wesley. Call me a sucker for jerks, but I liked Wesley. Him and Bianca keep you laughing throughout the book and even blushing. He is a very different male character than what we are used to seeing in the Young Adult genre. He isn't a goody good, but he isn't the stereotypical "bad boy" that we see in YA either. He, like Bianca, has the real factor. Another great character.
The Writing and Flow. The writing was amazing and it flowed nicely. It was a quick read, because of this. I didn't have to push myself through the last few pages. I actually found myself sad that I had actually finished it, because it was over.
What I Didn't Like:
Duff. I don't like the word at all. I know it is the name of the book and it is kind of the point, but I hate it.
Would I Recommend:
Yes. I would recommend this to an older teen to adult, looking for a quick fun read.